Famous Mommy's and Daddy's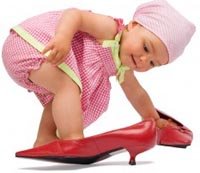 Get some sticker labels and markers & before the guests get there make a list of famous moms & dads. They can be animated characters too. After you've finished your list write the names on the labels – one per guest.
After guests have a arrived place a label on their back and tell them they have to leave it and cant know the name of this famous person but other guests will know. They have to ask yes & no questions about the name on their back until they have guessed it right! Fun ice breaking game. You can just stick with famous mommy's unless your having a couples party then famous daddy's can be included.
Leave a comment