Awesome deviled egg baby carriages that can be served at a baby shower! Really easy to create and delicious fun! Guests will surely enjoy this clever appetizer! Watch the How-To Video so you can make these at your next baby shower
Grocery List:
•small can of black whole olives
•toothpicks
•2 small cans of Vienna Sausages (vienna weenies)
•carrot slices
•1-2 dozen hard boiled eggs (depending on number of guests)
•Sliced sweet midget pickles
•chocolate sprinkles work well for eyes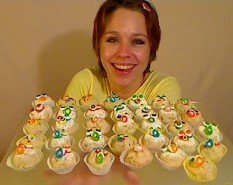 1 C. Salted Butter Softened
8 Tblspns Confectioners Sugar
2 C. All Purpose Flour
2 C. Chopped Walnuts
1/2 tspn. Vanilla Extract
Preheat oven to 350 degrees. Mix all ingredients together. Roll dough into small round balls. Bake 10 -12 mins. Cool completely. Then roll balls in additionaly powdered sugar to coat. Use mini M&M's for eyes placing them on a half of minature marshmallow diced. Use Icing to place eyes on. Icing that sets up firm is best but you can use regular icing. Use some "Air Heads" brand taffy style candies to make binkies for the mouth. Refer to the how to video for instructions. Recipe makes 40 balls.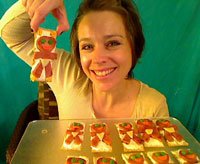 2 cans of Spam, Frozen Peas, Carrots, Whipped cream cheese, 1 box of Wheat Thins brand Flat bread (tuscan flavor) Provolone cheese
Slice some thin cuts off your spam and shape into a baby, basic head, arms & legs. Fry each side till nice light brown. Hollow out some areas for eyes, mouth. Put frozen pease in for the eyes, and a half slice of carrot for mouth. A triangle cut of provolone for the diaper. Spread whipped cream cheese on a flat bread and lay baby on top! Really yummy finger foods for a baby shower! (makes 20 babies)

2 Lbs ground beef
1 Package taco seasoning
1 Bag of Doritos
1 16oz sour cream
1 Onion diced
1 8oz can crescent rolls
1 Medium green pepper
3/4 Cup cilantro (optional)
Grated cheddar cheese
Small can of sliced or diced olives
Lettuce
Diced tomato
---
Brown ground beef, onion, green pepper and drain grease. Add taco seasoning as directed on package. Add your olives (save a few for top). Press the crescent rolls into bottom of 9×13 inch pan. Crush a portion of the doritos – enough to cover over pressed rolls. Add your meat mixture over the top of the layered doritos. Cover and smooth over with sour cream. Add a nice layer of grated cheddar cheese covering over the sour cream. Cover with aluminum foil and bake at 350 degrees for 35 minutes. Cool a bit and add shredded lettuce, cilantro, and diced tomatoes and a few sprinkles of olives. This is a party delight!
3 cans of cactus cooler brand drinks or half of a 2 liter
1 6 oz can thawed lemonade concentrate
2 quarts of apple cider
28 oz ginger ale
In a punch bowl combine cider and lemonade concentrate – still well. Add gingeale and cactus cooler. Stir nicely and add a few apple, pineapple and orange slices. Serve on ice. Makes about 25 servings.
2 cans of frozen grape juice concentrate
48 oz of carbonated water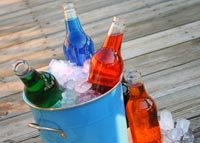 ---
Stir somewhat thawed grape juice and 8 cans carbonated water nice and slow together. Rinse out a couple 2 liter bottles from previous purchases of soda. Use a funnel placing it at top of your 2 liter bottle and pour your soda mixture slowly inside. Put cap on – fill the other and refrigerate these several hours. Refrigerate overnight for party next day. This is a low sugar healthy drink for all, and you can brag cause its 'homemade'.