Dollar Raffle Tickets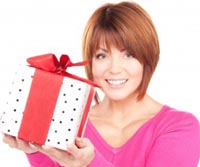 Put on display a special prize for all the guests to see and want! Then sell raffle tickets for a dollar towards winning the prize! mom-to-be pulls the lucky ticket out of a hat and announces WINNER. All the dollars go into a new piggy bank for baby!
A variation to the raffle game is to give out 2 raffle tickets for one package of diapers brought and 1 raffle ticket for each box of baby wipes. These all get entered and a drawing takes place for the grand prize!
Leave a comment