What's the Circumference of Mommy's Belly?

[dtbaker_line type="bird"]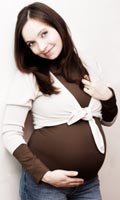 This popular game can be played with yarn, toilet paper, ribbon or a streamer roll. Just have each player pull out the selected measuring material to what they think will fit perfectly around the pregnant belly. Measure one around mom's belly to use for an example to compare all the others to. Whoever has that perfect fit, or close to it – WINS!
Leave a comment