Lots of Fun Baby Shower Ideas to Make Your Party Planning Easy, Successful and Memorable!

[dtbaker_line type="bird"]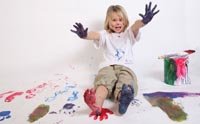 Draw out some baby hand prints and footprints then cut them out. At the shower ask each guest to write advice, and helpful hints on them.Then put them into a scrap book for mom-to-be to refer back to as she needs. Or pass around a journal and asking guests to do the same, filling it with loving words and tidbits of information that mom-to-be will find very useful. When sending out the invitations you can inform the guests ahead of time that this will be requested at the shower so that they can think of what they might want to write down.
Leave a comment