Lots of Fun Baby Shower Ideas to Make Your Party Planning Easy, Successful and Memorable!

[dtbaker_line type="bird"]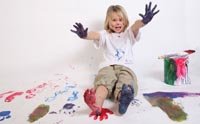 Buy some onesies or bibs and a bunch of fabric or puff paint. Give each guest a onesie or bib or you can put everyone in groups of two so you don't have to buy so you can cut costs on supplies and have them create their own personalized artwork on the onesie or bib. Then later mom-to-be gets to be the judge of the cutest! And they win!
Leave a comment