PartyTimeBaby is sharing a list of Lullaby Renditions with you. An amazing list of albums that have been transformed into beautiful instrumental lullabies ! Play these great tunes with your little one on the way, at the baby shower, playing in the nursery, driving or bath time – actually any time! This is a conglomeration of baby lullaby music with parents favorite music which makes it a hit for everyone. Enjoy a wide variety from punk, metal, disco, country, rock and more. These albums are a great gift for newborn, new parents or yourself! Take a listen, you'll be lovin it!
Baby Shower Music Playlist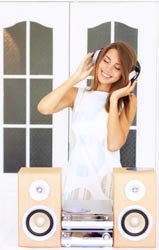 Enjoy this Baby Shower Playlist of suggested songs and music, to play at your baby shower! Choose your favorites and burn a CD! Or take advantage of ! It's very convenient, simple and affordable. And if you happen to need some 'sound' advice, you'll need the latest , to find out what sounds good at a good price.
---
SONG LIST
Song Title and Artist
by Alison Krauss
Capri by Colbie Caillat
by Paul Anka
Baby Beluga by Raffi
Baby I Love You by Andy Kim
Baby Lets Play House by Elvis Presley
Hush Little Baby by Toby Mac
You're My Baby by Robin Thicke
Baby Elephant Walk by Henry Mancini
Don't Cry Baby by Madelein Peyroux
Baby Love by Diana Ross
B.A.B.Y. by Carla Thomas
Havin' A Baby by R. Kelly
Baby Hold On by Eddie Money
Dream Baby by Glen Campbell
My Angel Baby by Toby Beau
Sweet Child O' Mine by Guns n Roses
Butterfly Kisses by Faith Hill
Baby Talk by Jan & Dean
Hey Baby by Bruce Channel
Daddy's Girl by Peter Cetera
Let Them Be Little by Billy Dean
Always Be My Baby by Mariah Carey
Baby Dont Forget My Number by Milli Vanilli
My Two Babies by Corey Smith
In My Fathers Eyes by Eric Clapton
Baby Face by Brenda Lee
The Baby by Blake Shelton
Hump de Bump by Red Hot Chilli Peppers
Anybody Seen My Baby by Rolling Stones
Ooh Baby Baby by Linda Ronstadt
Baby Boy by Beyonce
Honey Baby by Three Plus
All That She Wants by Ace Of Base
Hey Baby by No Doubt
Baby Love by Nicole Scherzinger
Be My Baby by The Ronnettes
Baby Come Back by Player
Baby You're A Rich Man by The Beatles
Kewpie Doll by Frankie Vaughan
Dont Worry Baby by Beach Boys
Take Good Care Of My Baby by Bobby Vee
Daddy's Baby by James Taylor
Sugar Sugar by The Archies
My Darling Child by Sinead O'Connor
Baby I'm Yours by Arctic Monkeys
American Baby by Dave Matthews Band
Here Comes My Baby by Cat Stevens
Always Be Your Baby by Natalie Grant
There Goes My Baby by Usher
Baby Imma' Want You by Bread
Baby I Love You by Jennifer Lopez
I Got You Babe by Sonny and Cher
Baby by Justin Bieber
Baby Come To Me by Patti Austin & James Ingram
Baby Girl by Sugarland
What Is Love by Haddaway
My Baby Loves Lovin by White Plains
Baby, What A Big Surprise by Chicago
Hey Baby by Pitbull Ft. T-Pain
Baby I'm Yours by Shai
Who's Your Baby Now by Mark Knopfler
Maybe Baby by Buddy Holly & The Crickets
Rock Me Baby by Otis Redding
Honeymoon Child by Emiliana Torrini
Be My Baby by Kate & Anna McGarrigle
Baby, Baby, Baby by TLC
Ice Ice Baby by Vanilla Ice
The Children's Song by Trick Daddy
Baby You Got What It Takes by Dinah Washington & Brook Benton
Baby Makes Her Blue Jeans Talk by Dr. Hook
Baby I Need Your Lovin by Four Tops
Baby Give It Up by KC & The Sunshine Band
Cats In The Cradle by Ugly Kid Joe
Mamma's Don't Let Your Babies Grow Up To Be Cowboys by Waylon Jennings and Willie Nelson