Lots of Fun Baby Shower Ideas to Make Your Party Planning Easy, Successful and Memorable!

[dtbaker_line type="bird"]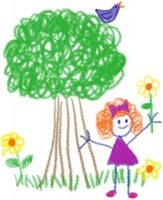 This is a great shower party idea! Its best when the sex of baby is known and the name of baby is already determined. Purchase a 4 x 6 photo album and a pack of 4 x 6 pastel colored index cards. On the first index card (which will be page one) write: " The Adventures of Madilyn " (example). Each guest will receive two of the same colored index cards and ask them to write a mini story about where Madilyn went on her adventure. Be sure they all write horizontally so that it will read like a book once its put in the album. You can suggest landmarks in the town where baby & family lives or a favorite sporting event or a trip to some distant place. Then all guests are to end their story with: "And then Madilyn went to…" The second card should be an illustration of their story. Stick figures are fine and really funny! The last page could be written by the mother. At a shower this was played at Madilyns mommy wrote on the last page that Madilyn visits her church to thank God for all her family and friends. This album turns out to be a wonderful keepsake!!!
Leave a comment